بكالوريوس العلوم (مع متربة الشرف) في علوم الحاسب الآلي في مساق تقنية البرمجيات
بكالوريوس العلوم (مع متربة الشرف) في علوم الحاسب الآلي في مساق تقنية البرمجيات
اخر موعد للتسجيل: تاريخ 27 Sep 2023
المدة الزمنية:

الدبلوم (سنتين) البكالوريوس (أربع سنوات)

العام الأكاديمي:

2023-2024

نمط الدراسة:

On-campus (Full Time/Part Time)

جهة الارتباط الأكاديمي

جامعة كوفنتري، المملكة المتحدة

الجهة المانحة

جامعة كوفنتري، المملكة المتحدة

الرسوم الدراسية للبرنامج:

OMR 11,547
الاستعداد للعمل

برنامج

تعليمية غامرة

تجربة

تعزيز المهارات وإعداد للحياة المهنية

.

الإرشاد المهني وبناء السيرة الذاتية

.

الفرص الوظيفية والتدريب في قطاع الصناعة

فرص

تحقيق الأهداف المهنية

.
MEC's Computer Science in Software Technology programme is designed to amplify your employability and open doors to exciting job opportunities in the world of technology, especially in the thriving GCC region. As a graduate, you'll have the essential skills and expertise to excel in diverse industries, where software technology plays a crucial role.
With the GCC countries, including Oman, UAE, and Saudi Arabia, at the forefront of technology adoption and digital transformation, your proficiency in software technology will make you a highly sought-after professional in these dynamic economies. The region's ambitious development plans and investments in innovation present a wealth of future opportunities for tech-savvy individuals like you to lead groundbreaking projects and contribute to significant advancements.
This programme equips you with the knowledge and skills important and relevant to different areas of Software Technology, such as Computer Architecture and Databases. The programme is strategically aligned with the country's diversification plans and the 2040 Vision Strategy, ensuring you are prepared to contribute significantly to critical sectors.
Your proficiency in software technology will make you a sought-after professional in organisations seeking tech-savvy individuals to drive innovation and success. Our hands-on learning approach equips you with real-world experience, making you ready to tackle complex technical challenges with confidence.
المنهج المستدام للمستقبل
المصمم وفقًا لمتطلبات العمل الجديدة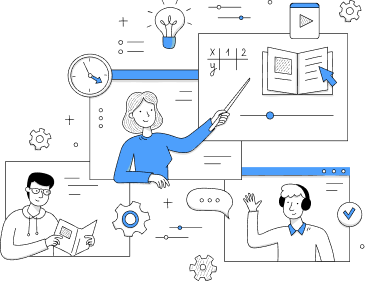 المشاركة الدولية للهيئة المهنية

Professional body engagement with the British Computer Society(BCS) through its active student chapter.Professional Certification from CISCO, Red Hat, AWS, Microsoft, Google, IBM, Python Academy and more

تعزيز التوظيف من خلال التفاعل النشط مع الصناعة

Internships, Industry lectures, industry networking, Industry visits, Curriculum co-designed by industry, International Training programmes and International Certifications

تعزيز المهارات وبناء السيرة الذاتية

Co-curricular activities by the BCS student Chapter, Community Outreach programmes, Tech competitions, Hackathons, Pre-graduation training and more

البحث والابتكار

Active student participation in Funded research projects, paper presentations at International Conferences, MEC student conferences, and papers published in International Journals
المنهج الدراسي الديناميكي
والذي يتوافق لتطوير مسارك المهني
معايير القبول
يجب أن يمتلك المرشحون الذين يسعون للقبول المباشر في البرنامج المذكور ما يلي.
دبلوم التعليم العام (ما يعادل 12 عامًا من الدراسة أو مؤهل معادل معتمد من وزارة التربية والتعليم ، عمان)
شهادة البرنامج التأسيسي العام (GFP)
يمكن للطلاب الذين لا يمتلكون شهادة GFP أو شهادة معادلة إجراء اختبار تحديد مستوى MEC. يحدد اختبار تحديد المستوى مستويات إتقان اللغة الإنجليزية والرياضيات البحتة ومكونات الحوسبة.
اعتمادًا على مستويات الكفاءة التي تنعكس في اختبارات تحديد المستوى ، سيتم وضع الطلاب في المستويات المناسبة من البرنامج التأسيسي MEC.
• يتم معادلة مقرر اللغة الإنجليزية في البرنامج التأسيسي العام عند حصولك على معدل لا يقل عن 5.5 في امتحان الآيلتس (IELTS) أو التوفل (TOEFL)، أو ما يعادلها من الشهادات الدولية.
• يتم معادلة مقرر الحوسبة في البرنامج التأسيسي العام عند حصولك بنجاح على شهادة القيادة الدولية للحاسب الآلي ( (ICDL أو (IC3) أو ما يعادلها من الشهادات الدولية.
• يتم معادلة مقرر الرياضيات في البرنامج التأسيسي العام (الرياضيات البحتة والعامة/ الرياضيات التطبيقية) في حال: - حصول الطالب على درجة النجاح في المستوى الأول من اختبار الرياضيات للقبول في الجامعات (TMUA) - حصول الطالب على درجة 3 أو نجاح أو مقبولة في المستوى الأول من اختبار STEP. • يتم معادلة البرنامج التأسيسي العام عند حصولك على معدل 60% في امتحان تحديد المستوى في كلية الشرق الأوسط.
• يتم معادلة البرنامج التأسيسي العام عند حصولك على معدل 60% في امتحان تحديد المستوى في كلية الشرق الأوسط.
آلية التقديم
الخطوة 1: اختر البرنامج
تحدث إلى مستشاري القبول لدينا واختر البرنامج الدراسي المطلوب في MEC. اجمع معلومات حول شروط القبول ومعايير الأهلية والمواعيد النهائية لتقديم الطلبات.
الخطوة 2: التقديم عبر الإنترنت
أكمل نموذج الطلب عبر الإنترنت المقدم من MEC ، مع التأكد من ملء جميع الحقول المطلوبة بدقة. تقدم مع المستندات اللازمة ، مثل الشهادات التعليمية ، والنصوص ، وإثبات الهوية ، والمستندات الداعمة الأخرى المحددة.
الخطوة 3: فحص المستندات
سيقوم فريق القبول بمراجعة وتقييم المستندات المقدمة لتحديد أهلية مقدم الطلب. تضمن هذه الخطوة أن جميع المستندات المطلوبة مرتبة وتفي بمعايير القبول في MEC.
الخطوة4: اختبار تحديد المستوى
سيُطلب من المتقدمين المؤهلين إجراء اختبار تحديد المستوى. الغرض من هذا الاختبار هو تقييم معرفة ومهارات مقدم الطلب في اللغة الإنجليزية والرياضيات والحوسبة.
الخطوة 5: إكمال التسجيل المسبق
بمجرد أن يكمل مقدم الطلب فحص المستندات واختبار تحديد المستوى ، سيتم إخطاره بحالة طلبهم.
الخطوة 6: التسجيل
دفع رسوم القبول أو تقديم خطاب منحة دراسية في حالة الحصول عليها. بعد استيفاء المتطلبات ، يتم تسجيل المتقدم رسميًا في كلية الشرق الأوسط.
Step 1: Pre-Admission Requirements
1. Educational certificates that are not issued in English or Arabic have to be translated by certified translators or reputable agencies. Get the translated certificates attested at the embassy of your home country in Oman or the Omani Embassy in your home country to validate their authenticity.
2. Submit the attested translated certificates to the Omani Ministry of Foreign Affairs or the Ministry of Foreign/External Affairs in your home country for further verification.
3. Obtain an equivalency letter from the Omani Ministry of Education. This letter confirms that your educational qualifications are compatible and equivalent to the Omani education system.
Step 2: Choose a programme
Talk to our International Officer and choose the desired programme of study at MEC. Gather information about the admission requirements, eligibility criteria, and application deadlines.
Step 3: Apply Online
أكمل نموذج الطلب عبر الإنترنت المقدم من MEC ، مع التأكد من ملء جميع الحقول المطلوبة بدقة. تقدم مع المستندات اللازمة ، مثل الشهادات التعليمية ، والنصوص ، وإثبات الهوية ، والمستندات الداعمة الأخرى المحددة.
Step 4: Documents Screening
سيقوم فريق القبول بمراجعة وتقييم المستندات المقدمة لتحديد أهلية مقدم الطلب. تضمن هذه الخطوة أن جميع المستندات المطلوبة مرتبة وتفي بمعايير القبول في MEC.
Step 5: Placement Test
Qualified applicants must undertake the MEC Placement Test or produce equivalent certificates as mentioned in the entry requirements section. The purpose of the test is to assess the applicant's knowledge and skills in English Language, Mathematics and Computing.
Step 6: Complete Pre-enrolment
بمجرد أن يكمل مقدم الطلب فحص المستندات واختبار تحديد المستوى ، سيتم إخطاره بحالة طلبهم.
Step 7: Enrollment
دفع رسوم القبول أو تقديم خطاب منحة دراسية في حالة الحصول عليها. بعد استيفاء المتطلبات ، يتم تسجيل المتقدم رسميًا في كلية الشرق الأوسط.
يقدم طلب على الإنترنت

عملية التقديم واختبار تحديد المستوى وعملية نقل الطلاب

التحقق من الوثيقة

عملية التقديم واختبار تحديد المستوى وعملية نقل الطلاب

اختبار القبول

عملية التقديم واختبار تحديد المستوى وعملية نقل الطلاب

مقابلة

عملية التقديم واختبار تحديد المستوى وعملية نقل الطلاب
الدعم المهني
معًا... نحو تحقيق الأحلام وتحويلها إلى واقع
في كليه الشرق الأوسط ، نبذل قصارى جهدنا لتعزيز فرص توظيف طلابنا من خلال تقديم خدمات دعم متنوعة طوال رحلتهم في كليه الشرق الأوسط. يضمن دعمنا دخول الخريجين إلى عالم العمل بثقة ومعرفة صناعية ومهارات مطلوبة
توجيه مهني شامل

التدريب الصيفي والتدريب على العمل

شبكات العمل والتواصل مع قطاع الصناعة

الدعم الممكّن بالتكنولوجيا للوظائف وتحسين المهارات
فرص الحياة المهنية
A graduate in Computer Science(Software Technology) can work in a variety of roles
وظائف للمبتدئين

Software Developer, Systems Analyst, IT Support Specialist, Software Designer, Video Game Developer, Website Designer

الوظائف المتوسطة

Software Engineering Manager, IT Project Manager, Systems Engineer, Embedded Software Engineer, IT Specialist Engineer, Mobile Software Engineer, Modeling Specialist Engineer, Smartphone Application Programmer, Technical Engineer Analyst

وظائف ذو الخبرة

مدير تقنية المعلومات الرئيسي (CTO)، مدير تقنية المعلومات، مهندس برمجيات رئيسي
أفضل المنظمات التي توظف خريجي هذا البرنامج

الرسوم الدراسية
الرسوم السنوية للعام الأكاديمي 2023-24
2802 ريال عماني
* سترتفع الرسوم بنسبة 2٪ كل عام ، رهنا بموافقة MoherI