ماجستير العلوم في الهندسة الإلكترونية
ماجستير العلوم في الهندسة الإلكترونية
Last date of application: 15 September 2023
المدة الزمنية:

سنة بدوام كامل / سنتان بدوام جزئي

العام الأكاديمي:

2023-2024

نمط الدراسة:

50% online - 50% offline

جهة الارتباط الأكاديمي

جامعة كوفنتري، المملكة المتحدة

الجهة المانحة

جامعة كوفنتري، المملكة المتحدة

الرسوم الدراسية للبرنامج:

OMR 7675
الاستعداد للعمل

برنامج

تعليمية غامرة

تجربة

تعزيز المهارات وإعداد للحياة المهنية

.

الإرشاد المهني وبناء السيرة الذاتية

.

الفرص الوظيفية والتدريب في قطاع الصناعة

فرص

تحقيق الأهداف المهنية

.
The programme is designed to develop students' knowledge and expertise in the area of Electronics Engineering. It enables the student to understand advanced principles of Electronics Engineering and their relationship to contemporary, real-world applications. The course also ensures that students are able to plan, execute and critically evaluate projects in Electronics Engineering and thereby improve their wider employment prospects.
Modes of study:
Full-time programme: Day-time classes, 2 days in a week, 50% online
Part-time programme Evening classes, 2 days in a week, 50% online
Weekend classes in blended mode: Classes on Thursdays, Fridays and Saturdays, 50% online
المنهج المستدام للمستقبل
المصمم وفقًا لمتطلبات العمل الجديدة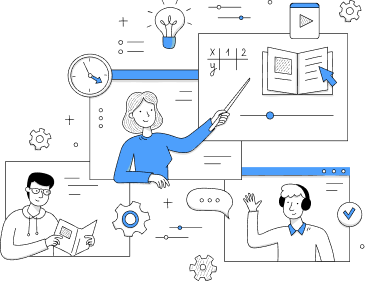 Dynamic Curriculum with International Collaboration

Problem and Case-based learning supported by latest learning resources and research databases in collaboration with Coventry University UK.

Professional Body engagement

Skill-building activities by International Professional Body: IEEE and the IEEE Student Chapter

Serving the community and promoting sustainability

Global social outreach projects, local community-based volunteering activities, and extensive industry interaction

البحث والابتكار

Active student participation in funded research projects, paper presentations at National and International Conferences, and papers published in National and International Journals.
المنهج الدراسي الديناميكي
والذي يتوافق لتطوير مسارك المهني
معايير القبول
An applicant to the programme will normally be expected to possess at least one of the following:

A minimum of a second-class Honours degree in Electronics Engineering
A relevant professional qualification of an equivalent level to a second-class Honours degree in Electronics Engineering

Applicant must hold IELTS 6.5 or TOEFL 600 or equivalent, or IELTS 6.0 or equivalent and an authorized letter from the previous institution of higher education study that the medium of instruction was in English, if English is not the applicant's first language.
No Accreditation of Prior Learning (APL) will be given against modules in this programme.
All applicants will be subject to approval from the partner University and MEC
Required Documents for processing application
• CV.
• Degree Certificate – Original (Attested by the MOHE ).
• Degree Transcripts -Full – Original.
• Documents showing CGPA or marks if it is not stated in transcripts.
• Work Experience Letters (attested by the Ministry of Manpower if issued by the company).
• No Objection Certificate from employer (Directed to the Dean Of Middle East College).
• Higher Secondary School Certificate -Original.
• 3 Passport size photographs.
• Copy of ID Card/Passport.
• IELTS Certificate
• Application Fee 100/- RO (refunded if rejected).
آلية التقديم
الخطوة 1: اختر البرنامج
تحدث إلى مستشاري القبول لدينا واختر البرنامج الدراسي المطلوب في MEC. اجمع معلومات حول شروط القبول ومعايير الأهلية والمواعيد النهائية لتقديم الطلبات.
الخطوة 2: التقديم عبر الإنترنت
أكمل نموذج الطلب عبر الإنترنت المقدم من MEC ، مع التأكد من ملء جميع الحقول المطلوبة بدقة. تقدم مع المستندات اللازمة ، مثل الشهادات التعليمية ، والنصوص ، وإثبات الهوية ، والمستندات الداعمة الأخرى المحددة.
الخطوة 3: فحص المستندات
سيقوم فريق القبول بمراجعة وتقييم المستندات المقدمة لتحديد أهلية مقدم الطلب. تضمن هذه الخطوة أن جميع المستندات المطلوبة مرتبة وتفي بمعايير القبول في MEC.
الخطوة4: اختبار تحديد المستوى
سيُطلب من المتقدمين المؤهلين إجراء اختبار تحديد المستوى. الغرض من هذا الاختبار هو تقييم معرفة ومهارات مقدم الطلب في اللغة الإنجليزية والرياضيات والحوسبة.
الخطوة 5: إكمال التسجيل المسبق
بمجرد أن يكمل مقدم الطلب فحص المستندات واختبار تحديد المستوى ، سيتم إخطاره بحالة طلبهم.
الخطوة 6: التسجيل
دفع رسوم القبول أو تقديم خطاب منحة دراسية في حالة الحصول عليها. بعد استيفاء المتطلبات ، يتم تسجيل المتقدم رسميًا في كلية الشرق الأوسط.
Step 1: Pre-Admission Requirements
1. Educational certificates that are not issued in English or Arabic have to be translated by certified translators or reputable agencies. Get the translated certificates attested at the embassy of your home country in Oman or the Omani Embassy in your home country to validate their authenticity.
2. Submit the attested translated certificates to the Omani Ministry of Foreign Affairs or the Ministry of Foreign/External Affairs in your home country for further verification.
3. Obtain an equivalency letter from the Omani Ministry of Education. This letter confirms that your educational qualifications are compatible and equivalent to the Omani education system.
Step 2: Choose a programme
Talk to our International Officer and choose the desired programme of study at MEC. Gather information about the admission requirements, eligibility criteria, and application deadlines.
Step 3: Apply Online
أكمل نموذج الطلب عبر الإنترنت المقدم من MEC ، مع التأكد من ملء جميع الحقول المطلوبة بدقة. تقدم مع المستندات اللازمة ، مثل الشهادات التعليمية ، والنصوص ، وإثبات الهوية ، والمستندات الداعمة الأخرى المحددة.
Step 4: Documents Screening
سيقوم فريق القبول بمراجعة وتقييم المستندات المقدمة لتحديد أهلية مقدم الطلب. تضمن هذه الخطوة أن جميع المستندات المطلوبة مرتبة وتفي بمعايير القبول في MEC.
Step 5: Placement Test
Qualified applicants must undertake the MEC Placement Test or produce equivalent certificates as mentioned in the entry requirements section. The purpose of the test is to assess the applicant's knowledge and skills in English Language, Mathematics and Computing.
Step 6: Complete Pre-enrolment
بمجرد أن يكمل مقدم الطلب فحص المستندات واختبار تحديد المستوى ، سيتم إخطاره بحالة طلبهم.
Step 7: Enrollment
دفع رسوم القبول أو تقديم خطاب منحة دراسية في حالة الحصول عليها. بعد استيفاء المتطلبات ، يتم تسجيل المتقدم رسميًا في كلية الشرق الأوسط.
يقدم طلب على الإنترنت

عملية التقديم واختبار تحديد المستوى وعملية نقل الطلاب

التحقق من الوثيقة

عملية التقديم واختبار تحديد المستوى وعملية نقل الطلاب

اختبار القبول

عملية التقديم واختبار تحديد المستوى وعملية نقل الطلاب

مقابلة

عملية التقديم واختبار تحديد المستوى وعملية نقل الطلاب
المنهج المستدام للمستقبل
المصمم وفقًا لمتطلبات العمل الجديدة
في كليه الشرق الأوسط ، نبذل قصارى جهدنا لتعزيز فرص توظيف طلابنا من خلال تقديم خدمات دعم متنوعة طوال رحلتهم في كليه الشرق الأوسط. يضمن دعمنا دخول الخريجين إلى عالم العمل بثقة ومعرفة صناعية ومهارات مطلوبة
توجيه مهني شامل

التدريب الصيفي والتدريب على العمل

شبكات العمل والتواصل مع قطاع الصناعة

الدعم الممكّن بالتكنولوجيا للوظائف وتحسين المهارات
فرص الحياة المهنية
With advanced technical expertise, graduates can explore engineering roles leading to senior management positions in various sectors.
وظائف للمبتدئين

Systems Engineer, RF Engineer, Design Engineer

الوظائف المتوسطة

Senior Systems Engineer, RF Design Engineer, Project Lead

وظائف ذو الخبرة

VP of Engineering, Director of Engineering, Engineering Group Manager
أفضل المنظمات التي توظف خريجي هذا البرنامج

الرسوم الدراسية
الرسوم السنوية للعام الأكاديمي 2023-24
3800
* سترتفع الرسوم بنسبة 2٪ كل عام ، رهنا بموافقة MoherI