The vision of starting a college exclusively for Information Technology (IT) education in the Sultanate of Oman was a pioneering idea in the beginning of 2000. At that point in time, the multi-faceted capabilities of IT were only unfolding in this country. This vision originated from two first generation entrepreneurs who decided to work for the cause of quality technology education in Oman. The institution has now diverged into other academic areas to keep up with the demands of a fast-growing economy.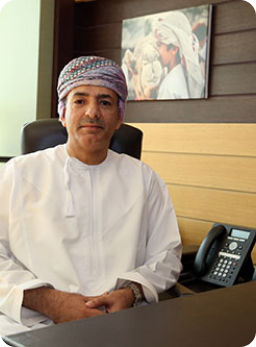 Dr. Abdullah Saif Ahmed Al Sabahy
Dr. Abdullah Al-Sabahy began his career in early 1990 with Oman's national carrier, Oman Air. Sometime later, he moved to the Office of the Special Advisor for External Liaison, to His Majesty, the Sultan of Oman, and held the position of Director of External Liaison until 2000. During this period, in the year 1995, he enrolled for the MBA programme at the University of Wolverhampton, and then pursued the PhD program in 1996. His PhD research was based on the Implementation of Total Quality Management in the finance industry in Oman and the UAE.
Mr. Lefeer Muhamed Marakkarackayil
Mr. Lefeer Muhamed Marakkarackayil is an alumnus of the University of Wolverhampton. He completed his MBA in the year 1996, with a major in International Business. After completing his studies, he began his career in the manufacturing industry and then in the service sector in India. In the year 2001, Mr. Marakkarackayil, assumed office as the founding Managing Director of the Middle East College and has actively contributed to its development with his strategic leadership. In the year 2007, Mr. Marakkarackayil along with Dr. Sabahy, co-founded the Asian Institute of Gaming & Animation (AIGA), Bangalore, India, which is one of the members of NASSCOM, and an advisory body to the Government of India and Government of Karnataka. Mr. Lefeer Muhamed Marakkarackayil has been awarded an Honorary Fellowship (2012) by the University of Wolverhampton UK, in recognition of his contributions to the field of Higher Education in the Sultanate of Oman.